Top Teams 2023:
Team Tandengoud € 69,796
Anne Kaal € 880
Borstbelang € 500
DHL SSC Maastricht € 285


---

Top Fundraisers 2023:
Vera Birkhoff € 700
Marianne Spaltman € 46


Bite Back at Breast Cancer (The Netherlands)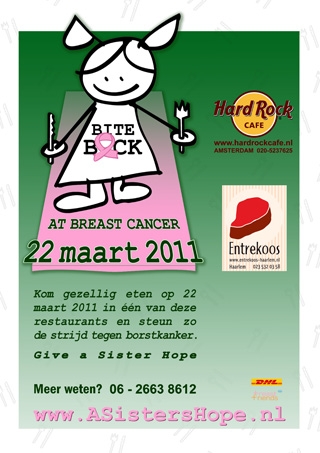 On a Tuesday in 2013, restaurants in several cities will join us to raise funds for breast cancer research. The people who eat at a participating restaurant just pay for the dinner they eat that day/evening. The restaurants commit themselves to a certain amount to charity. So if you have something to celebrate or simply want to help raise money for more and better breast cancer research, watch this website and when the time comes, book your table(s) at one of the participating restaurants!


Event: Bite Back at Breast Cancer
Date: Friday, November 30 2012
Start Time: To Be Determined

Location: To Be Determined
Directions:
map it
Address:
City: Multiple Cities
State/Province:
Country: The Netherlands

Bite Back at Breast Cancer is a way for restaurant owners and diners to join forces in a unique way to help fund research.