Top Teams 2023:
Team Tandengoud € 69,796
Anne Kaal € 880
Borstbelang € 500
DHL SSC Maastricht € 285


---

Top Fundraisers 2023:
Vera Birkhoff € 700
Marianne Spaltman € 46


Pink Moon Run & Walk (USA)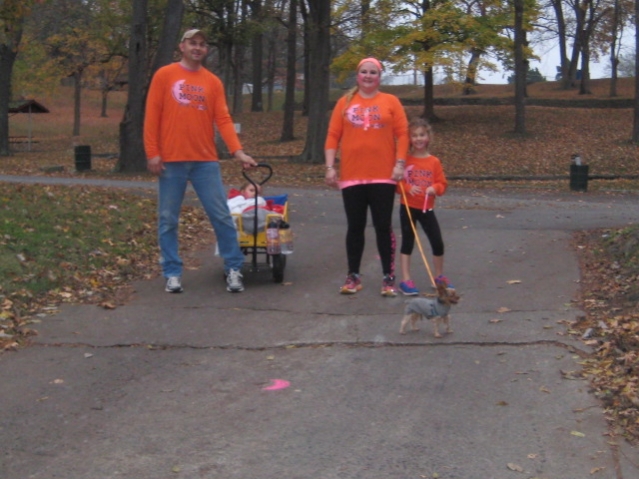 This event gives people in the area of southeast Missouri a great, easy opportunity to raise funds for important charities, including breast cancer research aimed at saving lives.


Event: Pink Moon Run & Walk
Date: Saturday, October 29 2016
Start Time: 4:00 pm

Location: 1 Barton Square, Cape County Courthouse
Directions:
map it
Address: 1 Barton Square
City: Jackson
State/Province: MO
Country: USA

This run/walk is held for one reason: to raise funds for charity. Aside from the cost of t-shirts and minimal marketing costs, 100% of your donations actually go to charity.

Registration fee includes glow sticks, long-sleeve event shirt, and a free drink (alcoholic or non-alcoholic) at the awards ceremony AFTER-PARTY for each Pink Moon participant, courtesy of Ron Cook at Stooge's! Let's raise money for research and celebrate!!

Gorgeous long-sleeve event shirts and glow sticks at check-in guaranteed for those who register and pay the entry fee before October 15.

If you are participating on behalf of a charity other than A Sister's Hope, you need to enter your charity's name in the registration form area where it says "I Heard about Pink Moon ..." $10 from each registration that lists a different charity will go to that charity. We invite all charities to be a part of this event so that our entire community can benefit and grow and help the greater good.

Want to participate for a different charity? Contact us at Info@ASistersHope.org. We are all in this together.

With this event, there is no paid production team. There is no paid staff. There are no overhead administrative fees. The event is HELD SOLELY FOR CHARITABLE PURPOSES.

While the event also increases/maintains awareness about breast cancer, its primary purpose is to raise the funding researchers need to make significant progress in finding better treatments and a cure.

REGISTRATION FEE:
$28!

We encourage each participant to raise additional donations and bring them with you to the event to further fund vital research. Prizes awarded to TOP FUNDRAISERS as well as winners of the runs.

* 4:00 pm Welcome & 8km Walk
* 5:00 pm 8km Run
* 5:15 pm 3km Walk & Run
* 5:45 pm 1km Walk & Run (Please email us at Info@ASistersHope.org if you or your children wish to participate in the 1-kilometer event; it does not show up on the online registration form)
* 6:15 pm Awards Presentation (time is approximate)

Stooge's hosts us after the event!
After finishing, participants all are invited to nearby Stooge's Restaurant where they are offering one free drink to every Pink Moon participant (alcoholic or non-alcoholic, participant's choice). It promises to be a celebration environment! LIVE ENTERTAINMENT

Details on projects funded by A Sister's Hope can be found on the "Research Funded" page of our website.

We come together under the PINK MOON to help researchers find better treatments and a cure for breast cancer.

Pink Moon Run & Walk is organized by A Sister's Hope, a registered 501(c)(3) non-profit organization. Donations can be made online via the website, or checks can be made out to "A Sister's Hope" and mailed to A Sister's Hope, Attn: C Sides, 477 Marble Lane, Jackson, MO 63755.