Top Teams 2023:
Team Tandengoud € 69,796
Anne Kaal € 880
Borstbelang € 500
DHL SSC Maastricht € 285


---

Top Fundraisers 2023:
Vera Birkhoff € 700
Marianne Spaltman € 46


GO FOR LIFE! (The Netherlands)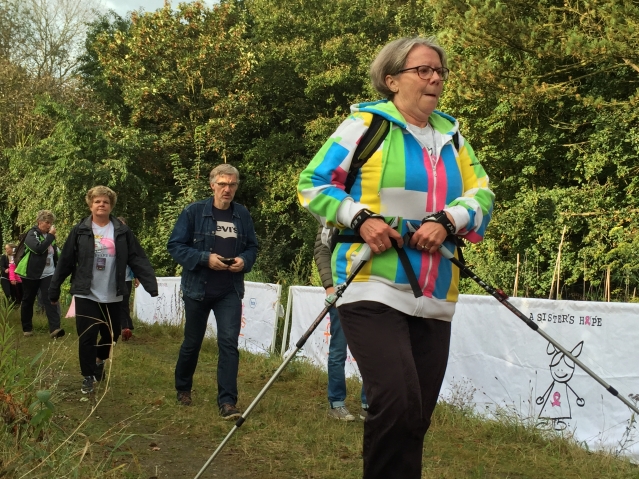 Walk or cycle with us in the fight against breast cancer. So far, we have raised over 5 million euro for our purpose: more and better breast cancer research. The need for research funding continues. Will you help?


Event: GO FOR LIFE!
Date: Sunday, October 6 2019
Start Time: 09.00 uur

Location: Bussum Squash & Wellness
Directions:
map it
Address: Struikheide 16, 1406 TK
City: Bussum
State/Province:
Country: The Netherlands

GO FOR LIFE: walking or cycling day in the Gooi en Vechtstreek in the area of Bussum

Participants are required to raise donations of €500 ($575 U.S. dollars) per participant. We encourage everyone to collect as much sponsor money as possible; no need to stop at 500 euro. If you participate with a team of 10 people, you only have to collect sponsor money for 9 people.

General information:
The cycling and walking tour start after a joint opening ceremony and warm-up around 9.00-9.30 from the Squash & Wellness sports center. Around 17.00 there will also be the joint final ceremony, the "survivor moment" and handing over a symbolic check to the researchers.

Hiking route:
The route is about 30 km. We use the existing Foot Path, (www.voetstappenpad.nl), a beautiful walking route through the Gooi. There are pit stops along the way with drinks and snack, including lunch, there is a pit stop for medical assistance and there is the well-known "sweep vehicle" in case you can not go any further. In addition, there is the possibility to stop halfway along the route and to travel by train from Hollandse Rading station to Station Bussum-Zuid. On foot, you are then a few minutes away from the starting point Squash & Wellness.

Cycle route:
A nice route through the Gooi and the Vechtstreek. On the way, you will find pit stops, lunch and a "breakdown en route" bus to pick you up if you are stranded with bad luck.

Once you have registered and you have informed us of your choice - walking or cycling - you are assigned a coach. She will answer your questions and keep you up to date information, tips & tricks to collect sponsor money or just be a listening ear or send a motivational mail.

We look forward to welcoming you on October 6, 2019!

HELP US GO FOR LIFE!

* When you register, you can not indicate whether you plan to walk or cycle. Your "Go For Life" coach will email you to ask what you plan to do.